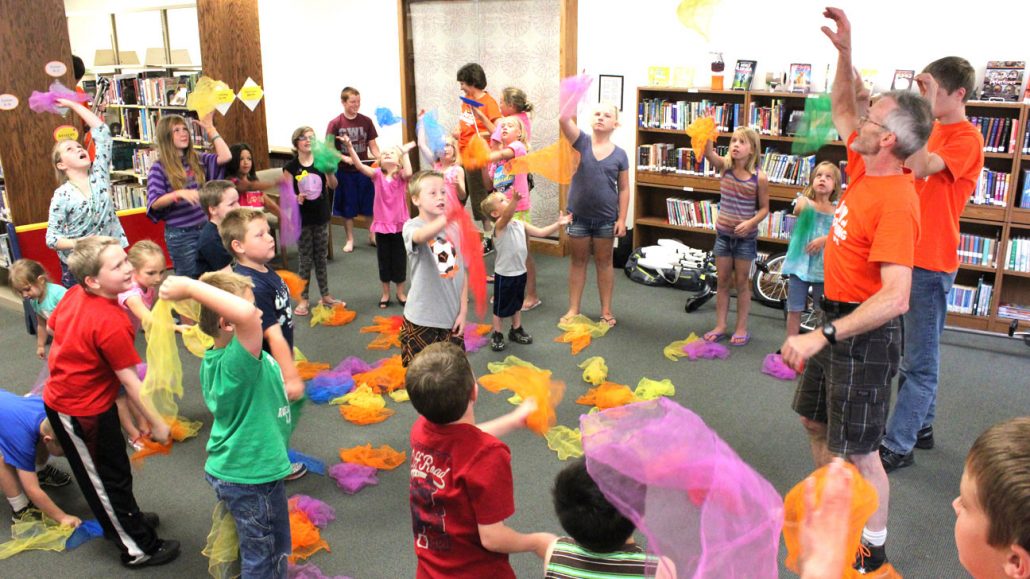 Library Closed
Due to staffing conflicts during the Tulip Festival, the Alton Public Library will be closed on Saturday, May 20. All items due will be renewed until Monday, May 22.
Build A Better World
The Alton Public Library will be having a Summer Reading Program for children in Preschool – 8th grade. The theme this summer is "Build a Better World". You may register by giving us a call, stopping by the library, or signing up on our website www.alton.lib.ia.us Kickoff is scheduled for Tuesday, June 6 @ 1:00 pm. featuring the Hanson Family Jugglers.
Hanson Family Jugglers
The Hanson Family Jugglers and Unicyclists from Kanawha, Iowa, will perform their 2017 Summer Reading Program on Tuesday, June 6 at 1:00 pm at the Alton Public Library. Mark Hanson, a two-time Guinness World Record holder for speed juggling, his national unicycle champion daughter, Christa, and the rest of the Hanson Family, are bringing their talents to our library to present their "I Can Build A Better World" program.
Bring your kids to hear inspiring stories and watch the Hanson family perform amazing juggling and unicycle tricks they have showcases on two occasions for the world famous Harlem Globetrotters basketball team.
Discover how to improve yourself through reading and how to build a better world with inspirational ideas. Make sure you stay till the end when two brave souls get a chance to survive the spine tingling Danger Trick! For more information about the Hanson Family please visit their website at www.HansonShows.com
Playing Cards @ APL
The Alton Public Library would like to invite all adults interested in playing cards to come on Tuesday afternoons @ 1:30 pm. Games are played in the lower level. All ages welcome to attend this weekly program!
Lost And Found
Many items have been left at our library. Please check the lost and found box located in the entry or ask the staff for articles kept behind the desk. All items left after May 31 will be given to Bibles for Missions.
New Adult Books
Echoes in Death by J. D. Robb
Man Overboard by J. A. Jance
The Witness of Combines by Kent Meyers
A Piece of the World by Christina Baker Kline
The Bounty Hunter's Baby by Erica Vetsch
UnPhiltered by Phil Robertson
https://altoniowa.us/wp-content/uploads/2017/05/image-library-kids-juggling.jpg
728
1296
City of Alton, Iowa
http://altoniowa.us/wp-content/uploads/2015/10/Alton-ID-website-608x200.png
City of Alton, Iowa
2017-05-17 11:51:26
2017-05-17 12:03:22
Library News 05/15/2017 - Hanson Family Jugglers and More!