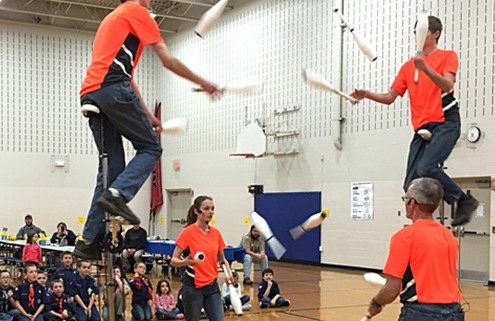 On Your Mark, Get Set…Read!
The Alton Public Library will be having a Summer Reading Program for children in
Preschool – 8th grade. You may register by giving us a call, stopping by the library, or signing up on our website www.alton.lib.ia.us Children of all ages are invited to the Kickoff featuring the Hanson Family Jugglers on Tuesday, June 7 at 1:00 pm.
Preschool Story Time
Come join the fun on Wednesday mornings during the month of June for our Preschool Story Time! All children age 3 – 5 are welcome to come for a time of reading, singing and crafts. Programs will be held at 10:30 a.m. on June 8, 15, 22 and 29.
Hanson Family Jugglers
The Alton Public Library is excited to present the Hanson Family from Kanawha, Iowa to perform their 2016 Summer Reading Program show on next week Tuesday, June 7 at 1:00 pm.
Mark Hanson, a two-time Guinness World Record holder for speed juggling, his national unicycle champion daughter, Christa, and the rest of the Hanson Family are bringing their talents to the Alton Public Library to share their "Recycled Fun" library program.
Bring your kids to hear inspiring stories and watch the Hanson Family perform juggling and unicycle tricks that they have showcased on two occasions for the world famous Harlem Globetrotters basketball team. Discover how to improve yourself through reading and improve the world with unusually fun recycling ideas.
The Hanson Family has performed for thousands of kids at libraries, schools and at fairs and festivals for many years. Please visit the Hanson Family website at www.HansonShows.com for more information about their shows.
Playing Cards At The Alton Public Library
The Alton Public Library would like to invite all adults interested in playing cards to come on Tuesday afternoons at 1:30 pm. Cards and hot beverages will be provided. Games played will be decided by those attending. All ages are welcome to attend this weekly program!
New Adult Books
Me Before You by Jojo Moyes
Sisi: Empress on Her Own by Allison Pataki
Anchors in the Storm by Sarah Sundin
Traces of Guilt by De Henderson
The Quieting by Suzanne Woods Fisher
National Parks of America/Lonely Planet
https://altoniowa.us/wp-content/uploads/2016/05/Alton-Feature-hanson-family2-495x400.jpg
400
495
City of Alton, Iowa
http://altoniowa.us/wp-content/uploads/2015/10/Alton-ID-website-608x200.png
City of Alton, Iowa
2016-05-31 14:24:15
2016-06-13 14:22:23
Library News 05/31/16